The sun goes through 11-year cycles of solar activity. Right now should be the quietest phase of the current cycle but 4 large flares this past week included the largest since 2008. On earth, they cause geomagnetic storms that can be disruptive to radio communications and power grids and may also have some effect on weather and earthquake activity.
www.newsweek.com
9/10 UPDATE:
On Sept. 10th, departing sunspot AR2673 erupted, producing a powerful
X8-class
solar flare. The explosion propelled a CME into space and accelerated a swarm of energetic protons toward Earth. Both are visible in this coronagraph movie from the Solar and Heliospheric Observatory (SOHO):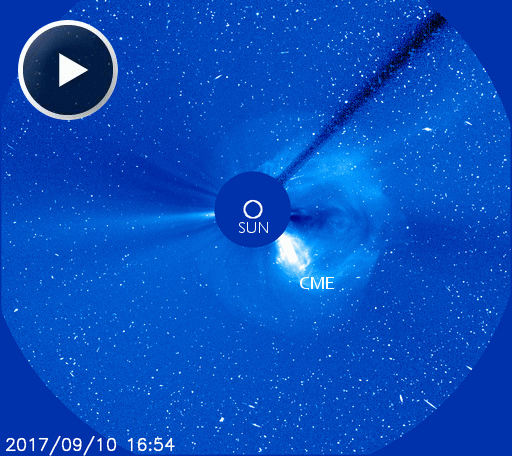 The many specks in this movie are not stars--they are solar protons striking SOHO's digital camera. Almost two days later these protons are still streaming past our planet, causing a moderately strong (
S2-class
) solar radiation storm.
What made this flare so 'radioactive'? It has to do with the location of AR2673 at the time of the explosion. The sun's western limb is magnetically well-connected to Earth.
Look at this diagram
. Magnetic fields spiraling back from the blast site led directly to our planet, funneling these energetic protons Earthward.
Normally, solar radiation storms are held at bay by our planet's magnetic field and upper atmosphere. On Sept.10th, however, there was a "ground level event" (GLE). Neutron monitors in the Arctic, Antarctic, and several other high latitude locations detected a surge of particles reaching all the way down to Earth's surface